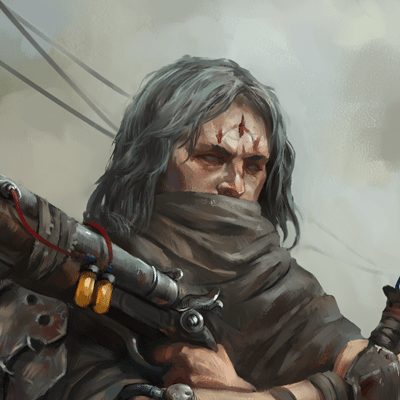 Grizzled Veteran
Jun 5, 2016 / Hugo / Minion
Grizzled Veteran
VP: N/A
Name: Edward Kyroswolf, General
Origin: Unknown
Type: Human
Gender: Male
Disciplines: Warrior
Biography
General Edward Kyroswolf was part of Elite 7, a United Front special forces group. He has extensive experience with demolitions and security, and his prowess in close combat is unmatched. In 2341 General Edward Kyroswolf retired from covert operations to become a training instructor in the Academy in Tigbar. His reputation as a skilled combat coach grew until early 2350 when a shadow from his past returned. A former member of Elite 7 and a close friend, Christopher Essex tried to annihilate all the remaining Elite 7 members without explanation.
Kyroswolf seeks out an old comrade and former pupil, Donald "Ironsides" Bane. Even their combined abilities were not enough to save the other members of Elite 7, and most of the veterans from his unit were killed. The Elite units were disbanded and their members sent into seclusion for their protection.
This made the General reconsider his retirement, and he called in many favors to return to the service and form a new unit. He brought in the few surviving Elite 7 members and a fresh batch of recruits. He currently serves as the commander of the United Front Hellraisers, where his primary mission is to locate and recruit the missing operatives of Elite 8 and 9, who have also begun to disappear, usually after visiting a system containing an Ophidian arena. His secondary mission is <CLASSIFIED>.
"Ironsides" went missing while investigating a lead in the arena on <CLASSIFIED>, and General Kyroswolf orders his tech ops to locate Warrior-specialized gladiator training centers throughout the galaxy that would allow his soldiers (including himself) to go undercover. They are seeking intelligence on any ties between Essex, who has completely vanished, and the Ophidians. This will bring him into contact with gladiators and other combatants… and it may even put his skills to the test in the arena.
Timeline
2321 Edward Kyroswolf joined United Front on his 18 birthday.
2335 Edward Kyroswolf is promoted to General.
2344 General Edward Kyroswolf resigns from United Front to begin teaching at the Tigbar War Academy.
2350 After an attempt on his life, General Kyroswolf leaves the Academy.
2351 General Edward Kyroswolf tracks down Elite 7 survivors.
2355 General Kyroswolf merges the surviving Elites into the United Front Hellraisers.
2357 Donald "Ironsides" Bane disappears from the Ophidian Arenas.
Enter the Arena!
Learn to play Ophidian 2360, and crush your opponents!


Get Started Now