Do you dream of conquest and combat?
Do you hear thousands of voices chanting your name when no one is around? Does the sound of crunching skulls calm your nerves? If so, prepare to enter the world of Ophidian.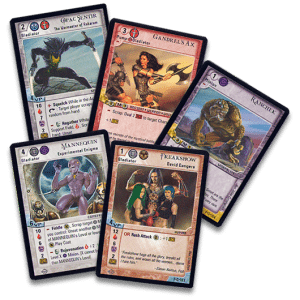 In the Ophidian Arenas, anything goes. Gladiators will come at you with fierce allies and giant worms. Attack you with armies of the Nth dimension, creatures that exist only in your mind, and heartless robots. They will scorch the sky just to blind you, turn your own friends against you. They will move so fast that their bodies will blur as they encircle you and close in for the win. They will cheat, and bend the rules in their favor. What will you do?
Join the Ophidian games and experience the next-generation of Card Games. Through Momentum, a new level of dynamic game play will change your perception of what a Card Game can be.
Will you have what it takes to survive?
Ophidian is a highly strategic card game about Gladiator Combat in the 24th Century. The Gladiators hail from different worlds with different technological backgrounds, so the game covers all different genres including; Sci-fi, Fantasy, Steam Punk, Mythological, and Modern-Era!
It contains a Patented Game Mechanic called "Momentum" that more accurately represents live combat.
The Original Game has over 240 different cards, divided into 6 disciplines, each with a unique play strategy. The game also contains double-sided cards of the fighters (Gladiators), where they can "level" up and get more powerful over time. Another Game Mechanic called "Cheer" rewards the Gladiators for fighting as a team, and can be used a victory condition.
Released in 2017, Ophidian 2360: Survival of the Fittest, added all new art, templates, and cards to the game. Hack and Slash Games has committed to making the Ophidian game a non-collectible game as we move forward. No more blind buying or randomized packs!
Gamers! Join us!
Our Community is the place to find players and more!
Explore our forums, and find new players, get rules questions answered, and more!