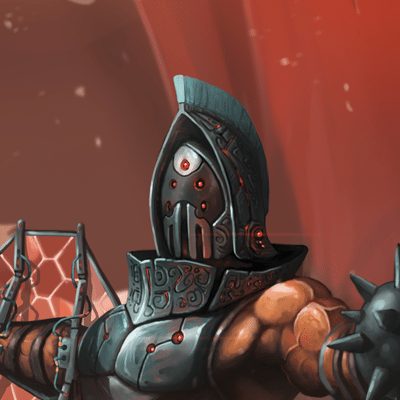 Grandstander
Jul 3, 2016 / Hugo / Gladiator
Grandstander
VP: 3
Name: Marcus Killian
Origin: Unknown
Type: Human
Gender: Male
Discipline: Warrior
Biography
Marcus Killian is one of the most electrifying Gladiators ever to step foot in the Ophidian Arenas. When it comes to his personal life he is quite secretive, never removing his helmet while there are cameras nearby. This element of mystery has only made the fans more excited by his presence in the arena, and he is a clear fan favorite. The media has been increasing the reward level for a clear shot of Marcus Killian unmasked.
Bursting onto the scene as an unknown, Marcus Killian lives on the razor's edge and has a charisma and devil-may-care attitude that skirts the line between endearing and insanity. His tendency to showboat before finishing off his opponents is entertaining and really gets the crowd going. His goal within the Ophidian Arenas is uncertain, but according to most of his fans and several oddsmakers, Grandstander will be this season's Champion.
Timeline
2360 Grandstander finishes in first place in a 16-gladiator elimination tournament and gains a 3VP ranking.
Enter the Arena!
Learn to play Ophidian 2360, and crush your opponents!


Get Started Now