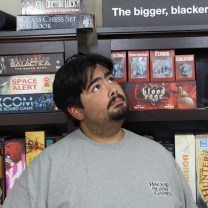 I have always been and always shall be a dreamer. I started taking things apart and sometimes putting them back together at an early age. For me playing with electrical and mechanical things was a fun puzzle. Since my father was an early computer guy I was lucky enough to get his hand-me-downs in this order:
* PC Junior – Bad keyboard – but it had Reading Rabbit, Top Gun, and Digger
* IBM 286 – awesome mechanical keyboard, Doom and Wolfenstein – muhaha
* No-name 486 – finally a color monitor and speakers, moving up in the world
* Pentium 60 – Warcraft 2, Quake, oh my!
I started building my own computers in high school, the best form of Lego you could buy. I started from a Pentium 150 and lost track from there. My fascination with computers lead me to the University of Houston College of Technology. To help pay my way though college I became Robert's computer repair minion and Sunday shop manager. I graduated with a Bachelor's of Science in Computer Engineering Technology and quickly found work in the oil and gas industry as a Controls Systems and Instrument engineer. When Rob presented this opportunity to me, the chance of a lifetime, I jumped at the chance! I bring with me my keen attention to detail, my understanding of logic and all things numerical.