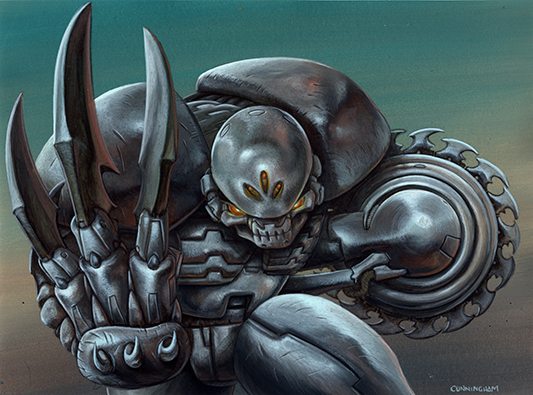 Ophidian 2360: Survival of the Fittest – Awaiting a Response…
Feb 5, 2016 / JasonRed3 / Gaming / Ophidian / The Making Of
Welcome to today's installment of the preview for our Kickstarter campaign for Ophidian 2360: Survival of the Fittest!
Today's preview will focus on that other bit of timing… Responses!  But first… At the head of this article, we have the new "Pol-Tec Bladebot," a new Tech Minion illustrated by Michael Cunningham.    Ignore this Minion at your peril, he can do a lot of damage if left unchecked!
Now back to Responses: Currently in the game, there are three kinds of responses, outlined below:
From the Ophidian rules:
In addition to + and – actions there are Responses which do not cause Momentum to change but instead act as brief interruptions. OR – Offensive Response (must have Momentum to play) DR – Defensive Response (playable only when a player does not have Momentum). R – Response (playable any time as defined by the card or ability as a reaction).
In Ophidian 2350, they appear like this:







In Ophidian moving forward, all responses will be labeled as Response with a single icon.  Having three types of Responses was needlessly complicated, and led to more misplays than if there were only one type.  Now, if there are limits on when a card or action can be played, those limits will be part of the card/ability's text.   Here's how they will appear*:




In Ophidian 2350, there is also a "PASS" ability.  which translates to a negative (–) Momentum ability that also counts as a Pass.  (for the purposes of ending the current Wave.)  Previously, they appeared like this:




In Ophidian moving forward, this ability will no longer appear.  These sorts of abilities will simply use a negative (–) Momentum symbol and the text of the ability will mention that it also counts as a "Pass" for the purposes of ending the current Wave.
We give a little, and we take a little away… but in this case, it will make things more streamlined for easier play!
Thank you for checking in… feel free to discuss any of what we've seen so far on our Forums, or on the BGG forums… and check back with us this weekend for more artwork to be revealed!
*Note that card images are not final.